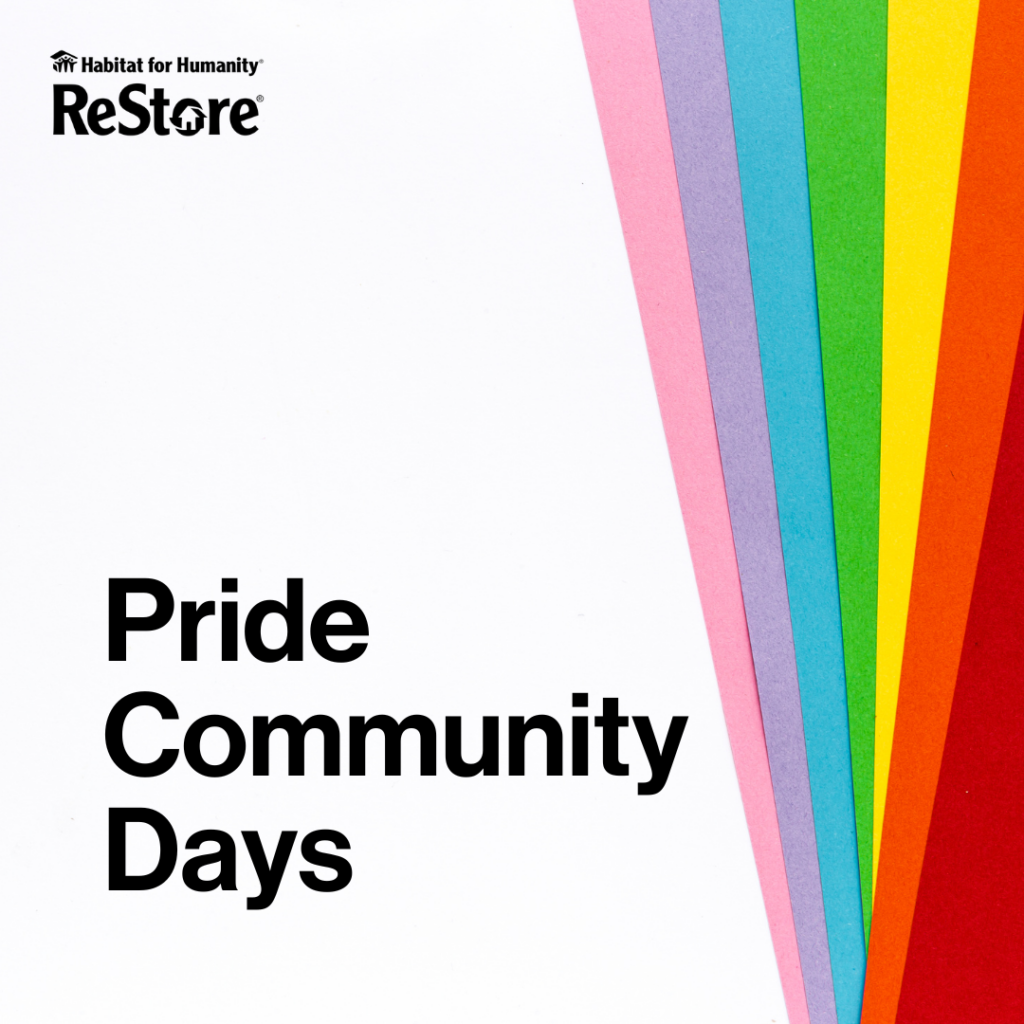 Why Pride? At Habitat for Humanity, we believe in creating inclusive and welcoming environments for every volunteer.
We know that housing justice is crucial for all. We also know that discrimination against LGBTQ+ people has led to inequitable access to housing for this community. According to the National Center for Transgender Equality, one in ten transgender people in the United States have been evicted from their homes because of their gender identity. And of our nation's 1.6 million homeless youth, 20-40% identify as LGBTQ+.
Habitat recognizes our part in ending housing discrimination and creating opportunities for all to have a stable and healthy place to call home. We believe our Pride Community Days can offer safer, intentional, and fun spaces for all those who identify as LGBTQ+ to come together and build community—all while supporting the mission of Habitat for Humanity.
ReStore Pride Community Days
Pride volunteer events typically take place in June to coincide with Pride Month and/or July to support Portland Pride's new festival and parade dates (stop by our table if you go!). We believe in the power of intentional community building and strongly recommend volunteers identify as LGBTQ+ to participate in our Pride events. Please note that although we cannot guarantee every participant and staff member will identify as LGBTQ+, we are confident everyone supports and cares for the LGBTQ+ community at large.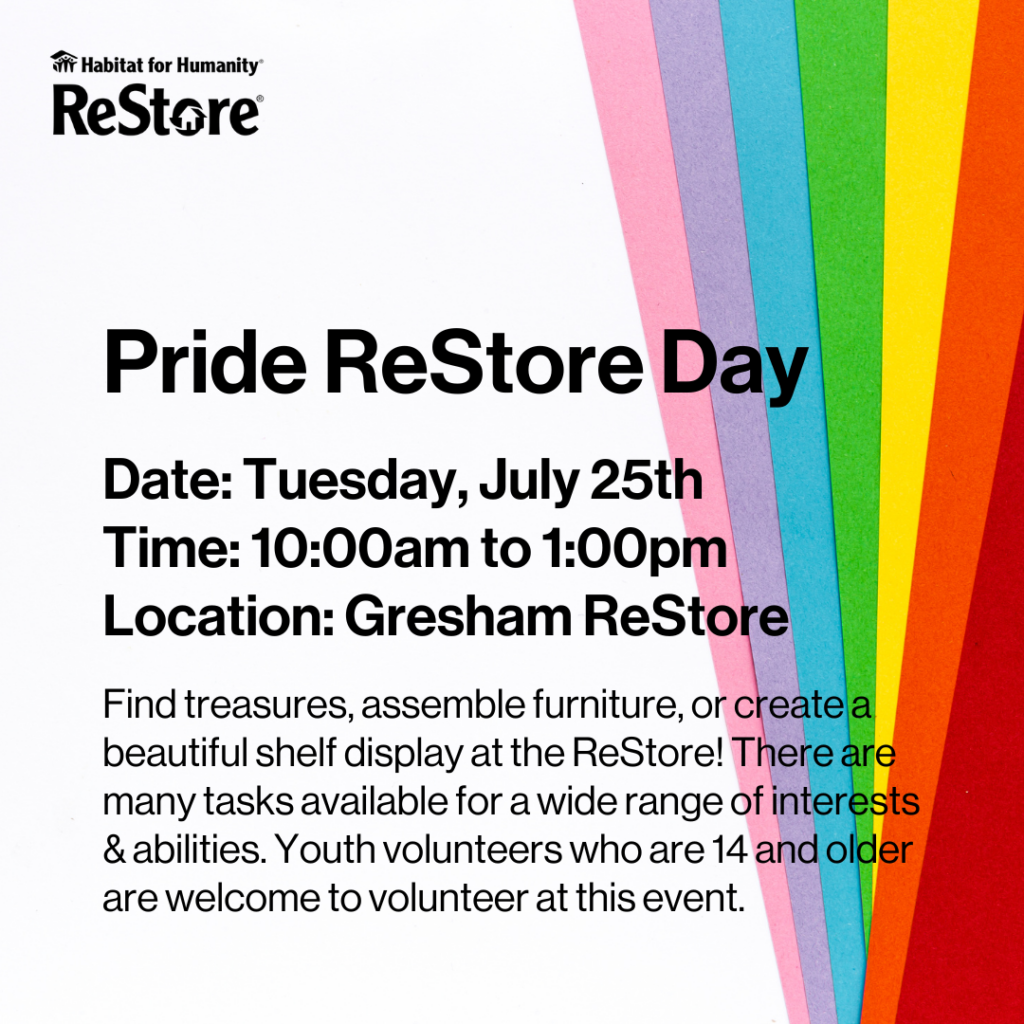 ReStore Day
Join us on Tuesday, July 25th from 10:00am to 1:00pm at the Gresham ReStore for this event. Find treasures, assemble furniture, or create a beautiful shelf display at the ReStore! There are many tasks available for a wide range of interests and abilities. Youth volunteers who are 14 and older are welcome to volunteer at this event. The Gresham ReStore is located at 610 NE 181 Ave., Portland, OR, 97230.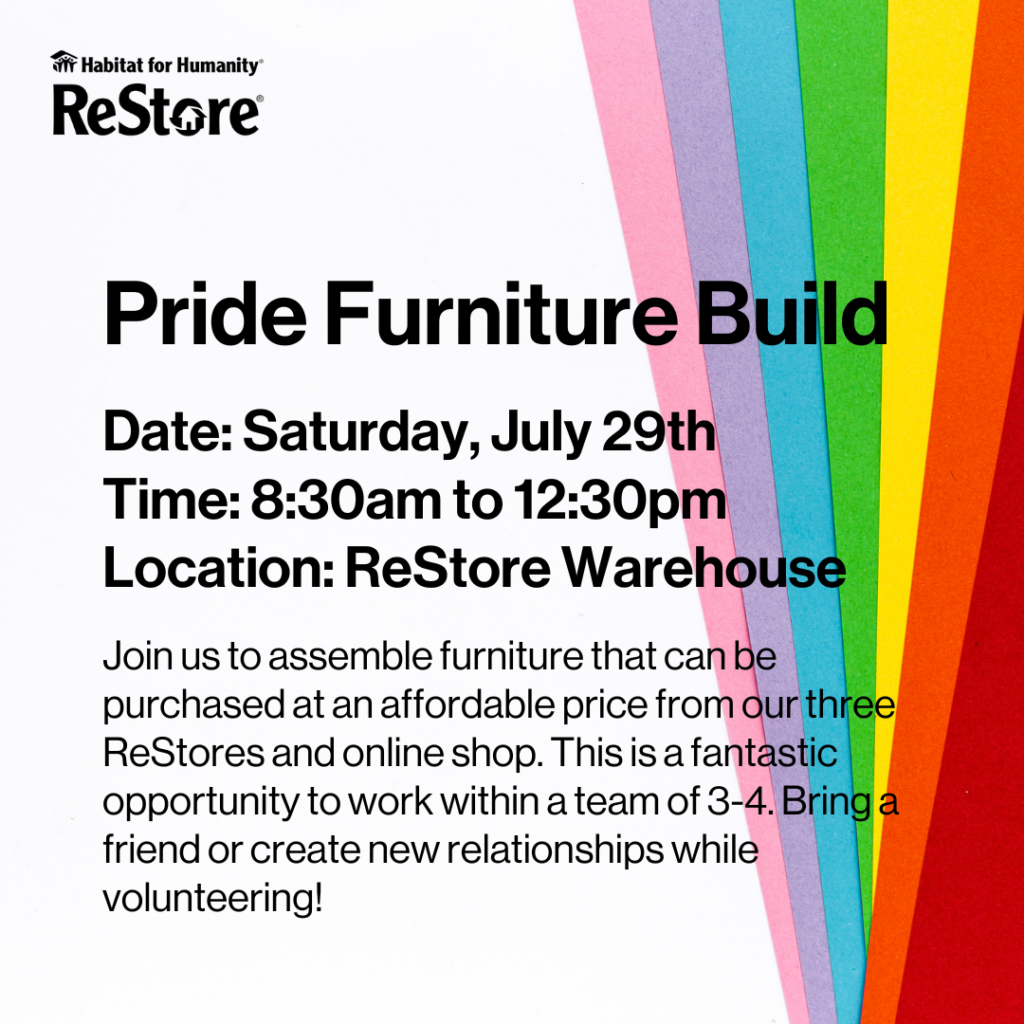 Furniture Build
Join us on Saturday, July 29th from 8:30am to 12:30pm at the ReStore Warehouse to assemble furniture that can be purchased at an affordable price from our three ReStores and our online store. This is a fantastic opportunity to work within a team of 3-4. Bring a friend or create new relationships while volunteering! All funds generated from the ReStores support Habitat for Humanity Portland Region's homebuilding and home repair programs. The ReStore Warehouse is located at 12413 NE Marx Street, Portland, OR 97230.
If you are interested in volunteering at a Pride volunteer event, please contact the Volunteer Programs Team at volunteer@habitatportlandregion.org. Events will be available for registration in advance on our volunteer portal: volunteer.habitatportlandregion.org. Due to high demand, these slots may be limited.