You never know what you'll find at The ReStore, and you never know who you'll meet – like Teri Pemberton of Vinyl Tap Bar and Grill.  Back in October Teri was about to make her first ever ReStore purchase.
"The guy who built the stage was [at The ReStore] and said," 'Hey you should go there and look. There's a piece of carpet that I think that would fit perfectly for what you're doing.' And it did." Teri recalls. She walked out of The ReStore with the carpet, some LED bulbs and a few other items.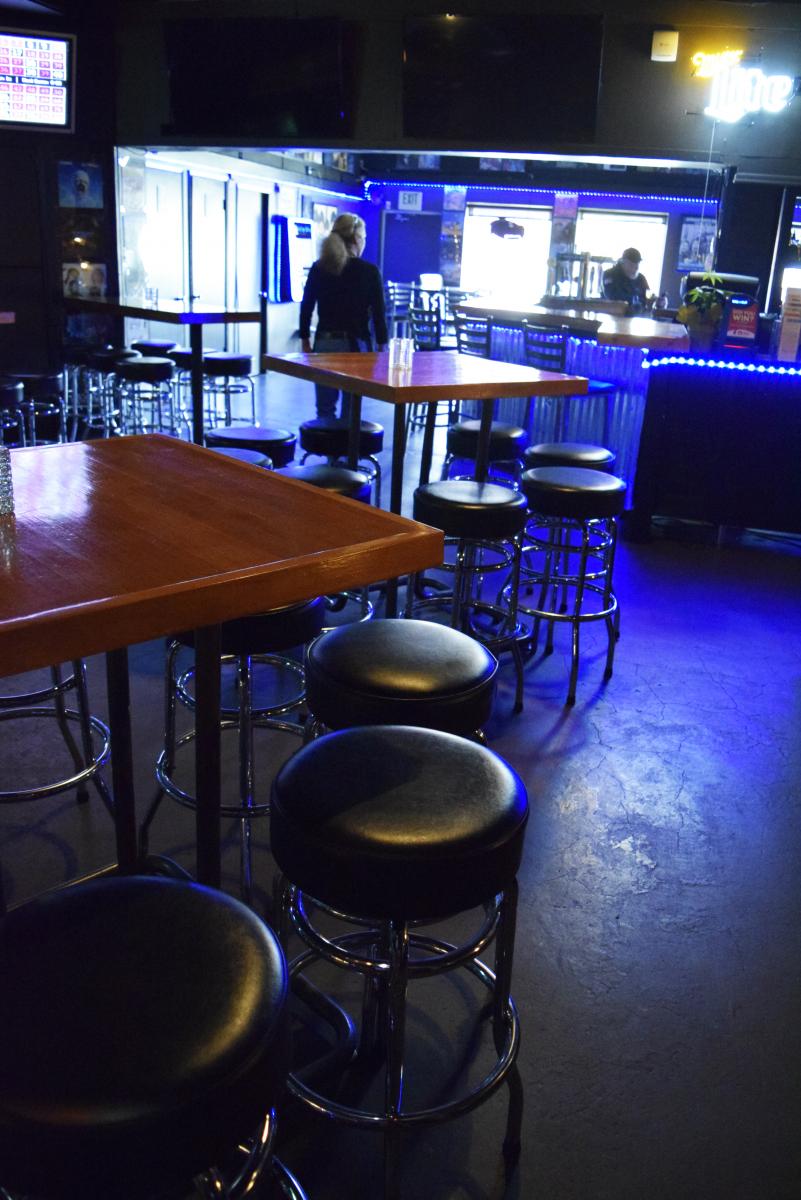 At that time, Teri and co-owner Sharon Flaherty, were putting the final pieces together before opening Vinyl Tap in Oak Grove. The ReStore was new to Teri, but using recycled materials has long been her thing.
Looking around the bar and grill, Teri can point to almost any object and tell its story.  
The pub tables:  "They are wire spools from a company that makes the wire racks that you see things on like at 7-11, and so we cut the tops off and made a plate and put self-levelers on the bottom."
The table tops:  Recycled birch and fir (harvested after new homeowners replaced existing flooring), plus zebra wood heart and redheart (from The Joinery)
The stage blackboard: Scrapped lumber from Lewis and Clark College.
They've also utilized old fence boards and Sharon's childhood album covers to adorn the walls. The bar and grill itself has been upcycled.
"This used to be an icky place, and we transformed it," Teri said. "We just want it to be a neighborhood place that gives people a place to come to an sit and listen to music."
Now that introductions have been made, we hope Teri visits often. Whether it's for a cozy new lounge sofa, lighting fixtures, a few new doors or funky old ones, for GreenSheen recycled paint or more LED bulbs, we know she knows we're also dedicated to reuse.
Glad to meet you, Teri Pemberton. Welcome to The ReStore.
_______
MORE ABOUT VINYL TAP BAR AND GRILL
OPEN 7 DAYS: 11am to midnight
KNOWN FOR: LIVE music Friday and Saturday, a jam on Sunday and Tuesday nights, karaoke on Wednesday and Thursday, Monday vinyl music trivia  night.
SERVING: Salads, including Greek, chef, cob; French dips, Street Vendor sandwich with grilled chicken, balsamic sauce and feta, etc.
HOUSE SPECIALTIES: Bloody Marys, lemon drops and Spanish coffee
TERI'S PREVIOUS DIGS: Owner, Morrison Street Bar and Grill at 12th and Morrison for over 13 years before it was demolished.