With the increased need for new housing, city and community leaders continue to brainstorm ways to balance the number of home demolitions with the need to maintain neighborhood integrity, keep used building materials viable for reuse, and conserve natural resources.
For the Habitat for Humanity ReStore, that means an opportunity to contribute knowledge, construction experience and deconstruction expertise to reclaim reusable building materials to support construction of affordable housing.
Recently a local real estate agent reached out to Salvage Service Manager Mark Pomeroy about the pending demolition of an estate in Bethany. The structures including a large guest house are coming down to make way for new housing development.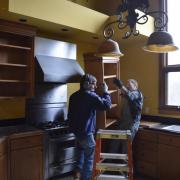 Before demolition crews remove the house, our Salvage Service experts surveyed the job.
"What we found was a high-end kitchen with old growth clear Douglas fir cabinets, commercial-grade stainless steel appliances, vertical grain old growth Douglas fir wood trim, about 20 eight-foot interior solid panel Douglas fir doors, wood double-paned windows, wrought iron railing and fencing, unusual light fixtures, a luxurious spa tub in the center of the master bath, furniture-quality bathroom vanity– built well, the drawers are wonderful!" Mark exclaimed.  "It's the finest quality cabinetry I've ever salvaged."
Mark along with his team removed a full kitchen, two bathrooms and more in a single day.  They will continue harvesting doors, windows and trim throughout the structures until all saleable reusable material is removed.
"It's great to make such high-end building material available for reuse at The ReStore," Mark added.
Mark's crew will soon be heading to Milwaukee where they will remove salvageable building materials from six homes slated for demolition this spring. It's sometimes heartbreaking to see houses completely going down, but there is some consolation knowing much of the materials will be harvested for reuse.
Gleaned materials from demolition sites and remodeling projects are delivered to ReStore locations in Portland, Beaverton, Vancouver (and soon in Gresham) where they are sold to support future Habitat homebuilding projects. 
Mark likes to say Salvage Services removes your worries with a crowbar. That's because they do careful building material removal at a highly competitive rate, while the homeowner gets a tax deduction and the knowledge that the materials will be repurposed. 
You can get involved, too!
"We're looking for volunteers to help with salvage projects like these," Mark said.
To learn more about The ReStore's salvage service program go to pdxrestore.org. To arrange for a review of your project or to volunteer with Salvage Service, contact Mark Pomeroy at salvage@pdxrestore.org.
__________________________
FIND OUT MORE: WATCH US IN ACTION!
_______________________________________________
RELATED CONTENT:
Salvage Service

Gresham ReStore

Portland ReStore

Washington County ReStore

​Clark County Habitat Store