MILWAUKEE — Recycled art is any kind of art made from materials that might otherwise be headed for a landfill. Naturally, Habitat for Humanity ReStores are great places for artists to find materials they can transform into something new and unique.
Milwaukee Habitat ReStore has seen firsthand the great art that can come from stray materials; they've held the Recycled Art Contest for the past eight years. The contest challenges the public to create new works by primarily using the donated products found at Habitat ReStores. From artwork to repurposed furniture, the only rule of the contest is that the majority of materials must be purchased at a Habitat ReStore.
"We ended up having the most successful Recycled Art Contest ever," said Jake Brandt, Marketing and Communications manager at Milwaukee Habitat for Humanity, "Over 1,000 votes were cast for the record 67 entries."
Voting took place online as well as at the two Milwaukee Habitat ReStore locations. Winners were announced at Gallery Night, a neighborhood-wide art walk in Milwaukee's Historic Third Ward.
Find inspiration for recycled art of your own from the winners below, then head to your local Habitat ReStore to see what materials you can transform.
Winners of the Milwaukee Habitat ReStore Recycled Art Contest
First Prize – Kurt Baumann, "Green Space Lamp"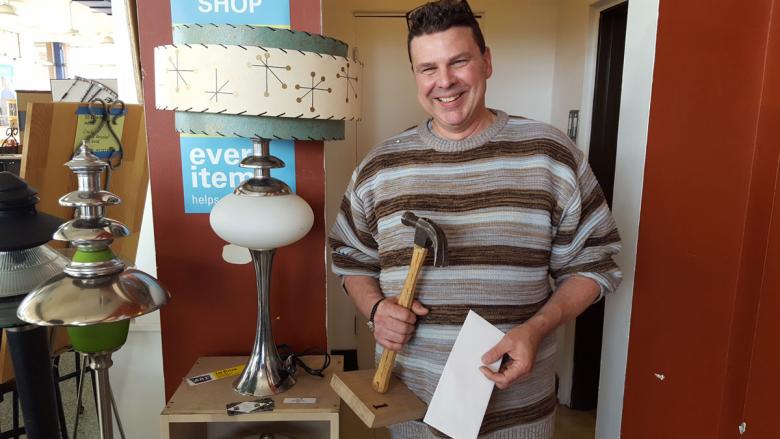 Baumann built this lamp using hardware and materials from a variety of Habitat ReStore items; he also built additional lamps to enter.
"I used parts from a fondue fountain to build this lamp," Baumann said.
He is planning to open his own business to sell his repurposed lamps, and he used the Recycled Art Contest as a jumping off point. After receiving his trophy and winnings – a $250 ReStore Gift Certificate – for first prize, he immediately filled a shopping cart with more items he plans to turn into repurposed lamps.
Second Prize – Janet Fischer – "Elmer"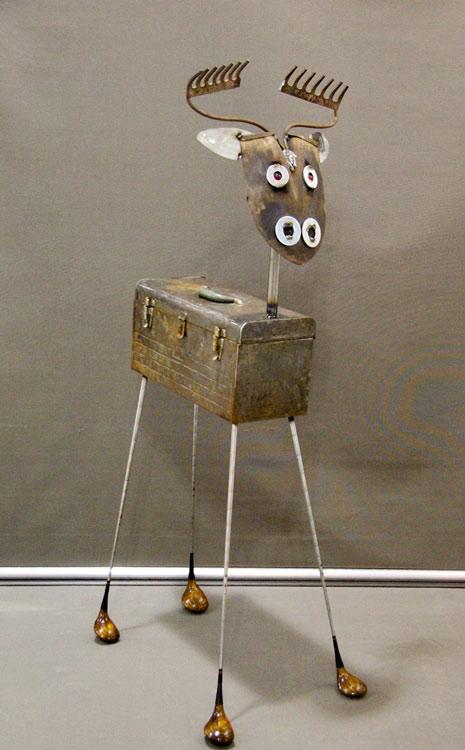 Third Prize – Jody Fredricks – "Untitled"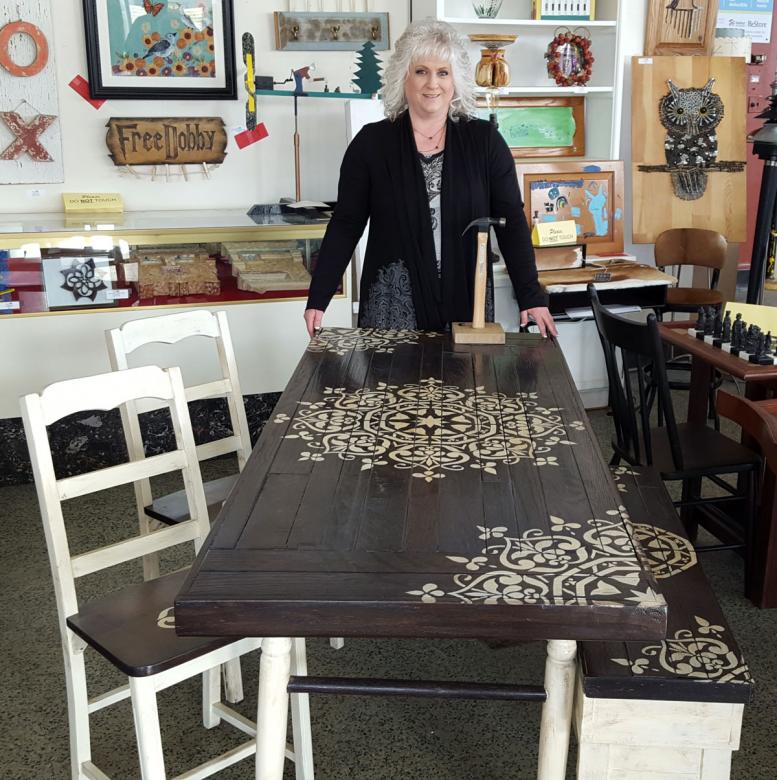 Fredricks operates a small business in Milwaukee called The Repurposed Roost that repurposes and redesigns things like old windows and shutters. She got creative, piecing together a variety of ReStore products in her entry,
"For the top of the table and bench, I used reclaimed oak flooring," she said.
Fourth Prize – Kathy Glancey – Wood slat flowers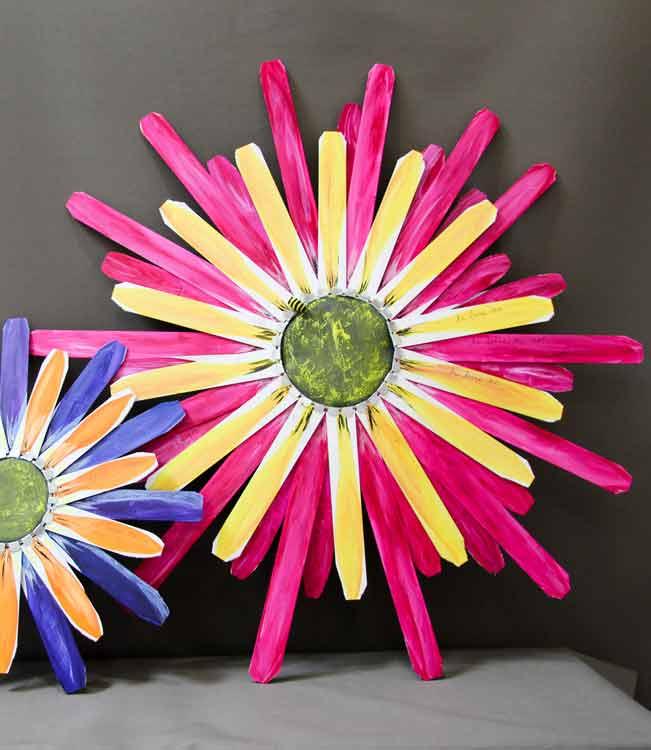 Glancey has participated in the contest since 2013, taking home first prize in that year's contest. She is a perennial contender for the top five and does an amazing job of getting out the vote to her friends and family. 
Fifth Prize – 3D Rockstars – "Owl"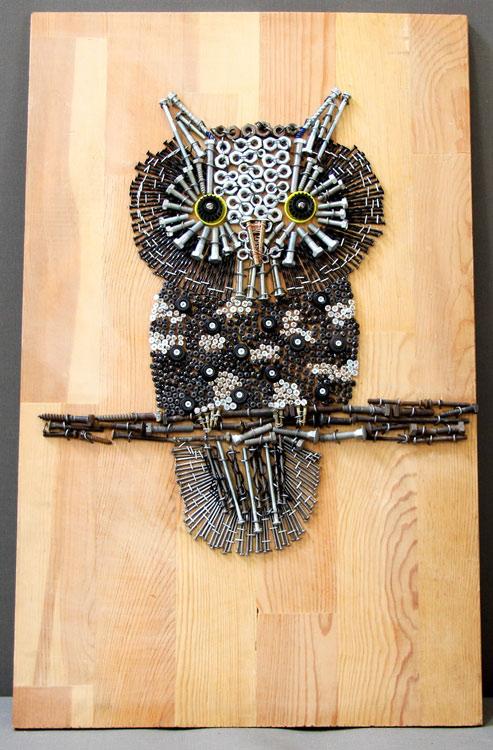 3D Rockstars is an art therapy group from the Milwaukee Center for Independence. "Owl," was created with the goal of using only ReStore materials said class leader Samantha Brophy.
"We used 100 percent ReStore materials. We didn't even use glue!" Brophy said.
This is the fourth year MCFI has participated in the Recycled Art Contest. Their clients sincerely appreciate the opportunity to showcase their artwork in this well-acclaimed Gallery Night exhibition. Below is Brophy along with Takeela Traner, who entered her art piece, "Beyonce."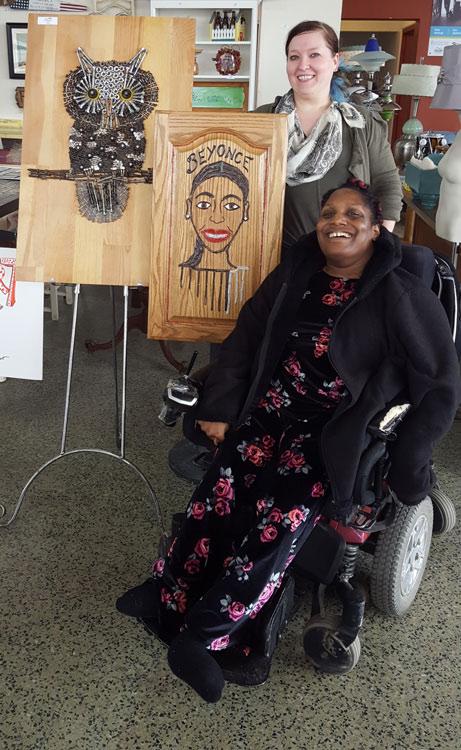 "I don't even care if I win. I just like being able to show my work," Traner said. "She [Brophy, the class instructor] is like my hands." Traner instructs Sam on how to carry out the work of art as she envisions it, helping physically wherever she can. 
Timing the culmination of the Recycled Art Contest around Earth Day was no accident.
"Scheduling the event around Earth Day also gives us the opportunity to give folks a visual representation of ReStore's secondary mission to keep reusable items out of landfills," Brandt said.
Proceeds raised from Habitat ReStore sales go to help Habitat build strength, stability and self-reliance through shelter in local communities and around the world. The stores also serve as a place to donate usable items that may otherwise end up in a landfill.
---